Double Tier Organizer Kit
$

50.00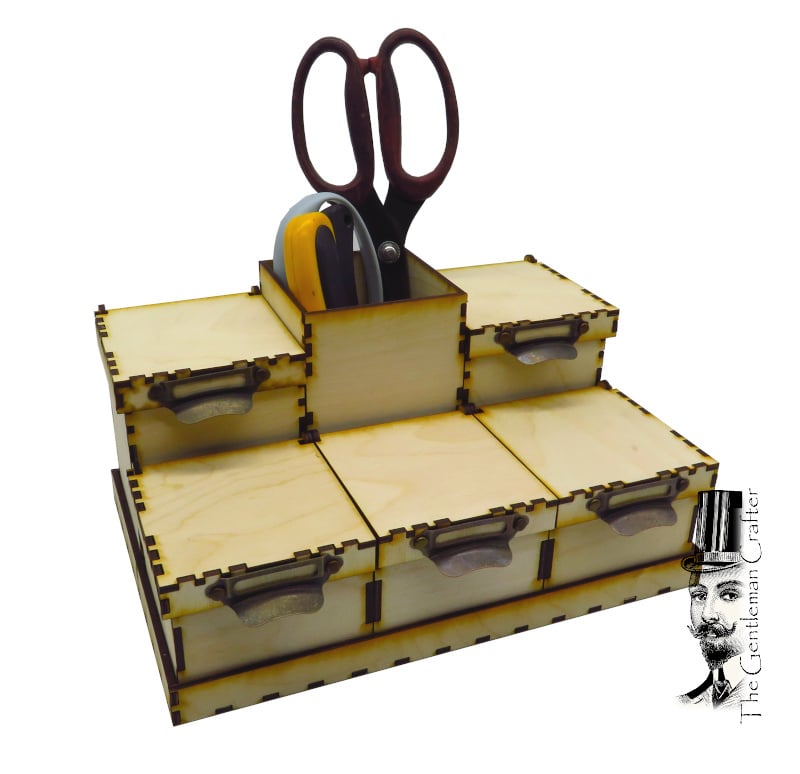 Please note that the kit shown does not come with any of the hardware shown, I just placed them on for inspirational purposes. You can easily find a small bag of the metal label pulls inexpensively on Amazon.
Are you looking to make 2023 a bit more organized? Well I designed this two tier organizer with 5 self lidded boxes and 1 tool/pens/pencil holder. The lower tier boxes are 3-1/8 wide and 2-1/4 tall. The top larger tier boxes are 3-1/8 wide and 4-1/8 tall. The tool holder in the center is 3-1/8 x 5 tall. They all sit individually on a 7 x 10 tray. What's so nice about this organizer is that you can remove each individual box and take it with you to where you are working or need it. Once done, place it back into the nest with all the other boxes on top of the tray.
Made from Birch ply which means it's perfect to paint, adhere scrapbook paper to or literally ink with an archival ink to decorate or simply leave it as is and maybe chose to spray it with a clear coat if you want. I'm not going to bother doing anything with mine, just use the heck out of it.
Kit Includes:
All easy to assemble precut wood pieces
(1) Small bottle of Glossy Accents which makes terrific wood glue.
(1) Tutorial that will be emailed to you when your order ships.
The only thing that would be helpful to have around is some masking tape or painter's tape to act as a third hand as your glue sets.
Share