NEW! Farmhouse Fruit Stand with Mini Kit
$

80.00 Sold Out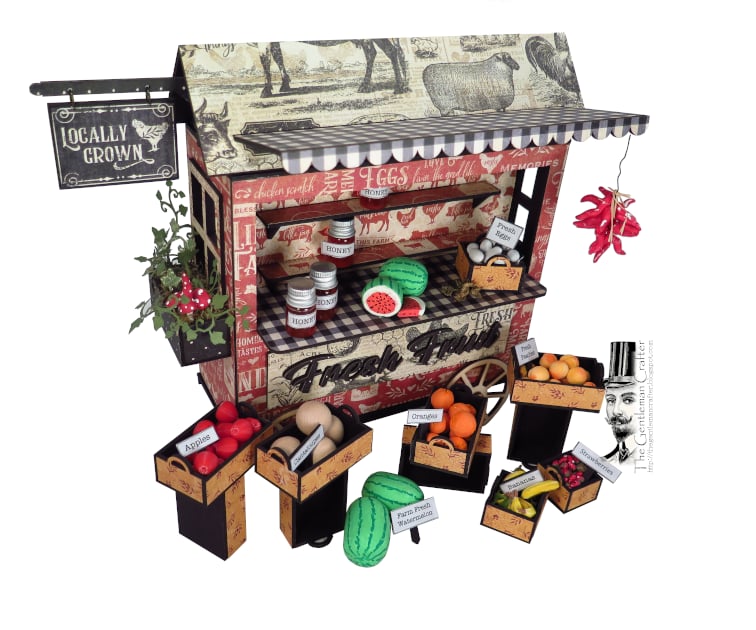 THIS IS A PREORDER...What that means is that I will place the order for the paper as soon as I get a count of how many kits are sold. Once the count is made it takes about a week to get the paper. I will cut the paper and put it in the mail ASAP!
This will ship no later than June 1st.
Please Note: The fruits, veggies and jars are not included in the kit. They are just for inspirational purposes. I do however give you an idea of how to make them and where the supplies came from.
You are buying the complete kit to make the Farmhouse Fruit Stand.
Dimensions: 8 x 10-inches
On the way to a small fun touristy town called Fredericksburg, Texas you can find these roadside fruit stands along the way. It's peach country really, but all kinds of produce may also be found. There's nothing like pulling over to purchase a few goodies to take back home. There is no other way to describe this project than to say it was so much fun to make. It was a blast to add all the little details to it which made it come to life. A farmhouse fruit stand ripe for the making.
Open the door on the side of the stand and you will find a secret place that holds a little book. It's the perfect size for adding bushels of recipe cards, memories and photos.
Kit Includes:
All Chipboard Pieces Cut to Fit
All Graphic 45 Farmhouse Papers Cut to Fit
Remainder of Graphic 45 Farmhouse Collection Kit
(1) Hitch Fastener for Door Knob
(2) Jump Rings for Sign
Ribbon for Spine of Book
(6) Red Precut Pages and Tags
Small Dowel for Birdhouse
(2) Larger Dowels For Cart Axels
(4) Wooden Wheels
(1) Small Bottle of Glossy Accents to Adhere Chipboard Together
(1) Tutorial to be EMAILED to you when project ships
Share