The Flying Car Kit!
$

74.95 Sold Out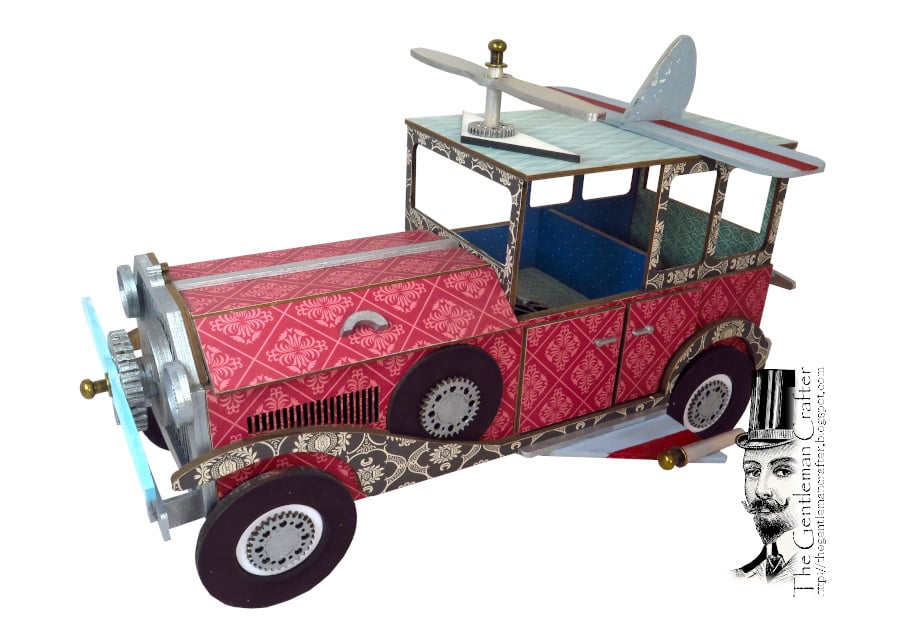 You are purchasing the chipboard kit to make the Flying Car
Dimensions: 4-1/4 x 7-1/2 x 14-inches approximately.
This cool sedan is decked out in flying gear ready to take off! I was actually inspired by a picture I saw on Texas Escapes Website of the Goodrich Flyer (Last Picture). Oh, the things they dreamed up. After I started designing and then built this project I totally see a flying car from one of my favorite movies as a child, Chitty Chitty Bang Bang. Not the same, but I surely get that feel.
The neat thing about this car is that you open up the hood from the little handle, it's compartment can hold the included little accordion mini book. This may look like a complicated project, but it's really not. You are basically making a box and gluing on detail pieces. Finish it off with your own "chrome" colored paint. A great project for upcoming Father's Day or would perfect to capture your travel memories.
Kit Includes:
All Chipboard Pieces Cut to Fit
Echo Park Paper cut to fit
Black cardstock and precut chipboard covers for Mini
Hitch Fasteners
Precut Wooden Wings, Propellers and Gears that decorate the grill
Small dowels for "jet propulsion rockets"
Small bottle of Glossy Accents
Tutorial to be emailed to you when kit ships
Share