The Sweet Sedan
$

45.00 Sold Out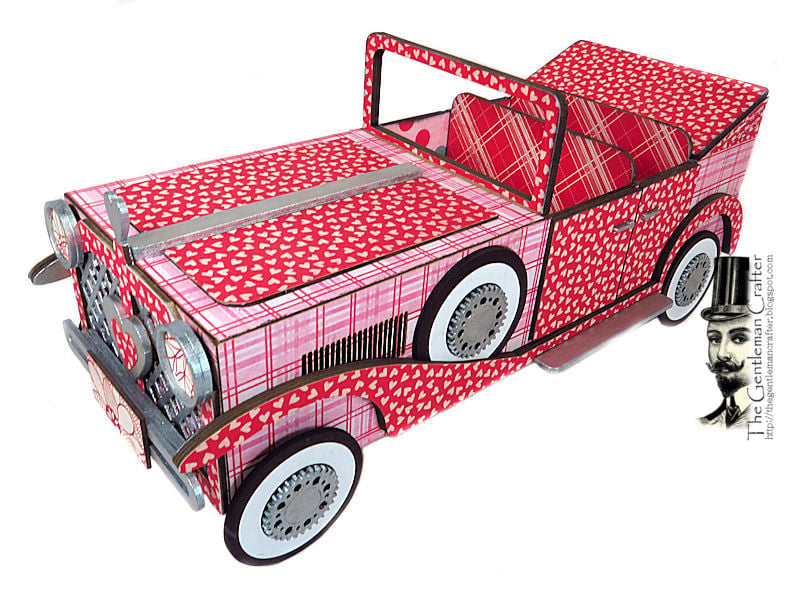 You are purchasing the kit to make The Sweet Sedan.
Your tutorial will be emailed to you when your order ships.
Dimensions: 4-1/2 x 11-3/4-inches
The sweet day of Valentines are coming and The Sweet Sedan is perfect for the one you love. There are multiple options for the sedan...The days of Cigar Boxes and Shoe Boxes could be over..Just place your lovely traditional sized Valentines cards into the sedan to show off how much you are loved. For a larger interior container pull out the middle seat section for a great option to a gift basket and place a miniature rose or candies into it. There is a lidded closure at the back of the car (Rumble Seat) for any special surprises you may have. The only thing you need is some metallic paint to finish off the chipboard trim pieces and some matte glue.
Kit Includes:
All Chipboard Cut to fit
Authentique's "Lovestruck" Papers Cut To Fit
Small Bottle of Glossy Accents
Tutorial to be emailed when order ships
A note about the emailed tutorial: When a tutorial is sent to your email either by instant download or by me emailing you the tutorial, it is sent from The Gentleman Crafter. Many times since the email is seen as coming from a business, it will send it to your spam, junk or under your promotions tab. If you would kindly check there first. If you cannot find it, please fell free to email me and I will resend it to you from my personal email. Thanks so much!
Share